Polypads
Founded in 1988, PolyPad's range of equestrian saddle pads, leg protectors and pet beds has paved the way through the industry with their professional and practical solutions for equestrians across all levels of experience. The pressure-relieving and non-fuss design of PolyPads is the reason why they are trusted by thousands of riding schools, eventing yards and professional riders in the UK. From saddlepads and numnahs to training accessories, we offer an excellent selection of PolyPads products to choose from.
---
Classic Plus One
PolyPads® can be used anyway around and on the reverse side as there are no straps or loops to restrict you, giving maximum wear and added value. Classically simple saddle pads that have been trusted since 1987.
Forma Regular Pony
A smaller version of the standard PolyPads® Forma© with no straps, fully reversible & easy to fit – they are very popular with young riders. The Pony Forma provides the same protection as the larger version as they are manufactured to the same high specifications. The pad is made from a durable polycotton and quilted to a cushioned fibre core for high performance protection. It...
---
Lungie Bungie
Polypads Lungie Bungie Designed to mimic a good rider's hands, the lungie bungie encourages horses to relax into the contact. Totally adjustable and suitable for ridden schooling as well as lunge work. Developed with Team Fredricks.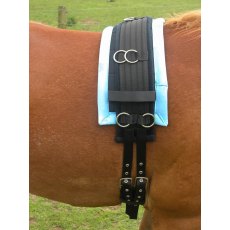 Polypads Rollerpad
The Roller Pad is designed for use under a roller or surcingle to protect the spine. Users have also highlighted its effectiveness at relieving rug pressure at the withers and some say they use the Roller Pad to raise the back of the saddle.
Polypads Categories