Weatherbeeta
---
Cambridge Mouth Kimblewick
Cambridge Mouth Kimblewick The Cambridge Mouth Kimblewick is a popular bit for use on ponies, and is ideal for horses that prove too strong in a snaffle. The action of the Kimblewick is similar to that of the Pelham, with the inclusion of a curb chain for added control. However, this bit produces a milder action than a Pelham, due to the lack of a shank, meaning there is less leverage. The port...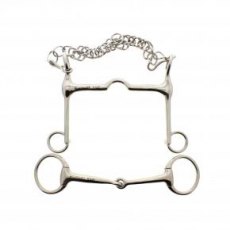 Fixed Cheek Port Mouth Weymouth Set
This is a set of bits for a double bridle. It comprises of a fixed cheek port mouth Weymouth and single jointed eggbutt bradoon. The Weymouth also known as the curb bit is normally used in conjunction with a bradoon. They are normally used for showing and dressage, worn with a double bridle. The fixed cheek curb bit may be useful for horses that are unsure of the bit, as it doesn't move around too...