Flex-on
---
Flex-on Green Composite Junior Stirrups
Flex-on Junior Green Composit StirrupsThe Junior Green Compound Stirrups from Flex-on has the same characteristics as the big brother Green Composit Stirrups.Resized for children, it combines comfort, performance and new design made from an organically sourced polyamide material. It integrates the check-absorbing Flex-on system and guarantees an upper protection of the young athlete's body. Its inclined...
Flex-on Green Composite Stirrups
Flex On Green Composite Stirrups. Great stirrups for anybody that suffers from knee or hip problems as the flex-on serve as a shock absorber Firstly these flex On Green Composite Stirrups are a complete single-piece steel core. Furthermore they are covered by an extremely robust composite polyamide which has been environmentally sourced. The stirrups are light but solid. Easily cleaned. Measurements: 7.5...
---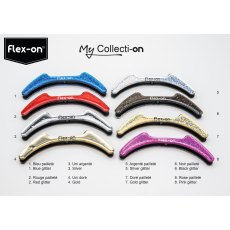 Flex-on Stirrup Magnets
Customise your Flex-on stirrups with optional decorative inserts The inserts at the top of the frame on Flex-on stirrups are fixed into place magnetically and can easily be removed and replaced with a different pair. Flex-on provide a variety of insert designs to replace the ones that come with the stirrups. Compatible with all models except Junior, which have a different-shaped insert.