Saddle Fitting
Covid 19 Saddle Fitting Procedures
All clients MUST read and understand the updated procedures detailed in the below link. Clients will be required to complete a questionarie over the phone prior to finalising any appointments.
Saddle Fitting Operating Procedures for Covid-19
All appointments will take place at our arena in Hatch Beauchamp, TA3 6TW
---
What Does Saddle Fitting Involve?
Fitting a saddle correctly is a skilled trade, and requires a qualified professional to get the best possible fit for horse and rider. A saddle fitting appointment with a qualified saddle fitter will incorporate a brief overview of the horse and rider, including any previous injuries or issues, the horse's current condition and conformation, riding style or discipline, and the suitability of both horse and rider for a particular saddle. Using this information in conjunction with an assessment of the horse ridden, the ideal saddle for each individual partnership can be easily selected. Seeking knowledgeable and unbiased advice from an experienced saddle fitter can be crucial in choosing the perfect saddle for any pairing.
Why Should You Get Your Saddle Fitted?
It is strongly recommended to have a saddle fitted by an SMS qualified saddle fitter, to ensure a suitable saddle with the best fit is selected. The difference between a poorly-fitting and a well-fitting saddle can be obvious through both physical and behavioural signs. If a saddle is causing the horse pain or discomfort, this can manifest itself in behavioural problems such as bucking, napping, or other examples of avoidance behaviour. In these situations, one of the first factors to consider should be the fit of the saddle. A trained saddle fitter will be able to offer informed advice and a workable solution to these common problems related to tack.
The saddle can also affect the horse's health and performance on a physical level. A well-fitting saddle can benefit both horse and rider by providing maximum comfort and reducing the risk of long-term injury or strain. Horses continually change shape over time, due to numerous factors such as age, level of fitness, reproductive status, weight and condition. All of these factors can affect and alter your horse's shape, which in turn influences the fit of the saddle.
A poorly fitting saddle can lead to numerous equine health problems in the long-term, which may require expensive corrective treatments, and can even cause irreversible damage. The cost of regular saddle fits, check-ups and adjustments when necessary is a small price to pay considering the long-term damage that your horse can suffer due to a poorly fitting saddle.
A well-fitting saddle is an essential factor in safeguarding and optimising your horse's welfare, comfort and performance. Whether you require a General Purpose saddle for everyday riding or schooling, or a top quality dressage or jumping saddle for competition, using the services of a professional SMS qualified saddle fitter is highly advisable.
The Society of Master Saddlers (SMS)
The Society of Master Saddlers (SMS) was founded in 1966 and has expanded over the decades to cover all areas of the trade. This prestigious governing body is central to the equine industry and works to safeguard the quality of work and services offered by professionals in the saddlery trade, as well as providing saddle fitting training and qualifications.
The SMS holds a list of approved and qualified saddle fitters and stockists, to help horse owners find a reliable and professional service in any instance. Unicorn Saddlery is a registered SMS member, and has its own SMS qualified saddle fitter, and is able to offer a professional and knowledgeable service from selecting products right through to fitting and altering.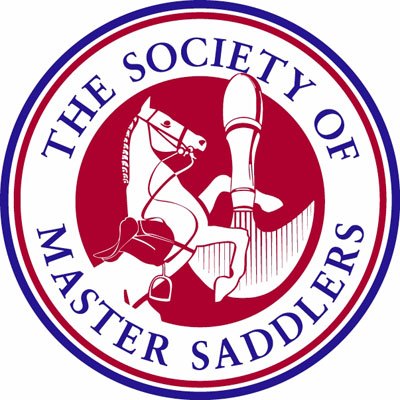 ---
Our Saddle Fitter
Unicorn Saddlery's founder, Philip Ireland, is an SMS qualified saddle fitter in the South West. This personal and professional service is always tailored to the individual, as each horse and rider combination is unique. Philip Ireland has over 20 years experience and is able to offer informed, unbiased advice to help you select the best fitting saddle for your individual requirements. Whether you live in Devon, Cornwall, Dorset, Wiltshire, North Somerset or Gloucestershire we'll be happy to help!
Saddle Fitting Somerset
Unicorn Saddlery is regarded as one of the leading stockists of saddles in the South West, with an unrivalled range of Dressage, Jumping and General Purpose saddles from numerous leading brands. The stock selection is constantly being updated with the latest products and innovative designs from established saddlemakers.
To book a saddle fitting appointment, or for more information and advice, please call on 01823481484, or email shop@unicornsaddlery.com.
See below for just some of the courses and manufacturer days Phil has attended.
---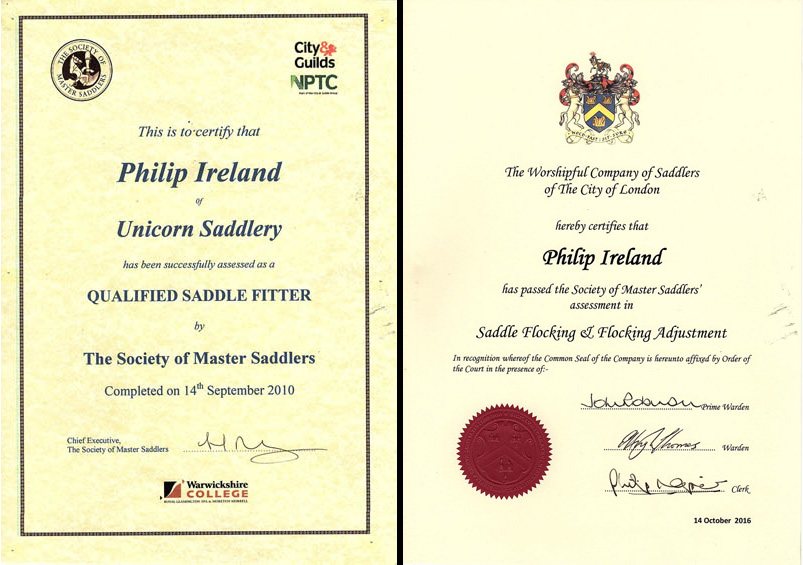 ---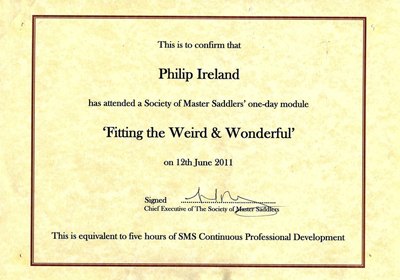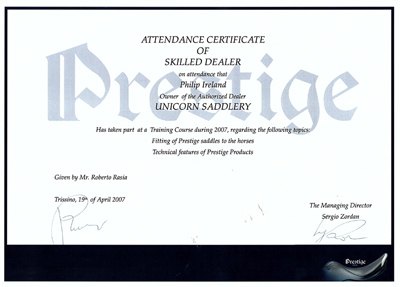 ---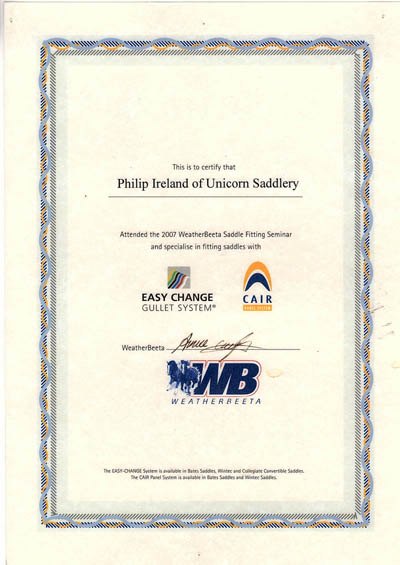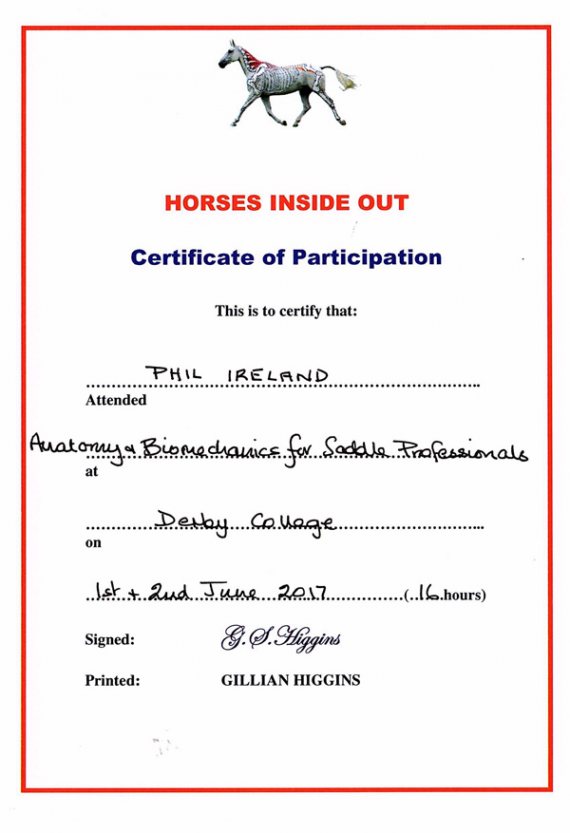 ---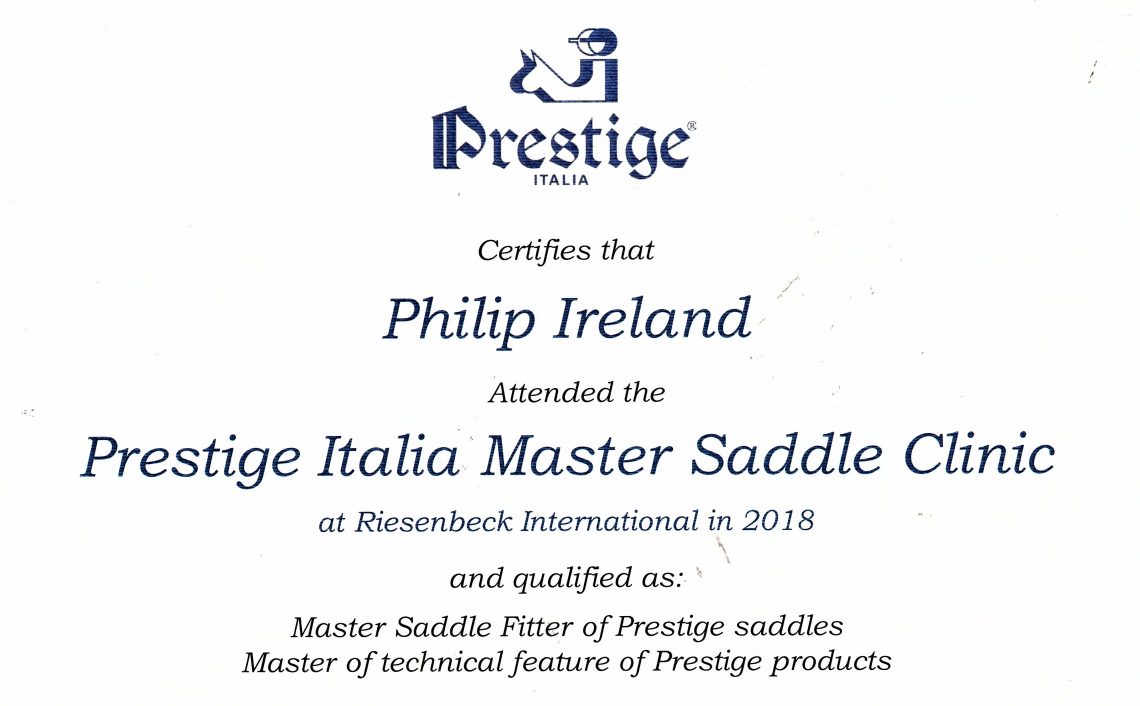 ---