---
HiHo Silver Silver Hunting Horn Stock Pin
This horn stock pin was created when the 'King of the Road' was out on his winter activity one day and the Master dropped his horn. He snapped a picture and the 'Cotley Horn' was born! With a sturdy pin, a stylish look and the story to boot this stockpin is enduringly popular whether worn with a stock or as a brooch. Another country design exclusive to Hiho, we hope you wear it with pride on your stock...
---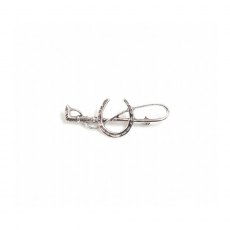 HiHo Silver Sterling Silver Horse Shoe & Crop Stock Pin
Handmade in sterling silver and given a gentle oxidisation to really bring the detail of the crop and the horseshoe alive, this stockpin sits perfectly on a stock or can be used as a brooch on a hat or lapel. With a sturdy pin at the back to keep it in place, pop it on and away you go.