---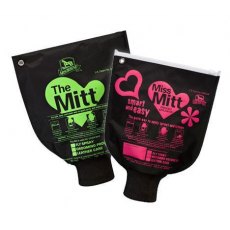 Absorbine The Mitt
The Miss Mitt is a patented, innovative way to apply insect repellents, leather, and grooming products. It's lined and waterproof to help apply sprays and lotions. The protective sleeve also serves as a convenient storage bag for The Mitt . Smaller version of The Mitt perfect for small-sized hands! Waterproof lining protects hands. Great for applying products to "spray-shy" horses. Can be used...
HyShine Tack Box
A high specification tack box suitable for all equestrian needs. Features a removable tray for convenience. A removable hoof oil brush holder ensures things stay nice and clean inside. Strong, reinforced lid can be sat or stood on. Dimensions(mm): 400x275x245(h).
---
Imperial Riding Grooming Box - Shiny
A beautycase especially made for your horse. There is enough space to put in all your grooming bits and more... Inside the box there is a layer of soft material for protectionand a removable inlay for smaller tools and bottles. This strong, durable and super cool grooming box is perfect day to day, during competition and everything inbetween. Easy to clean and wipeable.
LeMieux Hardshell Grooming Box
The LeMieux Hardshell Grooming Box has a strong reinforced aluminium frame and a durable scratch resistant casing making it supremely practical and hard wearing for all your grooming needs. The inner lining is made from soft shock absorbing foam to protect any sprays and bottles inside when travelling, and the removable insert carry tray is perfect for grooming on the go The...
---
LeMieux ProKit Lite Grooming Bag
LeMieux ProKit Lite Grooming Bag A convenient, lightweight grooming bag that goes anywhere! The ProKit Lite offers numerous zip up compartments and a choice of a grab handle or adjustable shoulder strap. Ideal for travelling or just around the yard Info & Care Care Guide Wipe Clean Only
LeMieux ShowKit Grooming Bag
Strong waterproof denier nylon outer. Reinforced moulded base makes this robust whatever the mud. Numerous pockets & compartments with a choice of grab handles or adjustable shoulder strap Ideal for travelling or just around the yard
---
Lincoln Cactus Cloth
Sisal cloth - an effortless way of removing sweat marks, grass and stable stains and dirt from the coat for a brighter sheen. Natural product.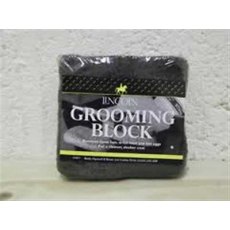 ---
Lincoln Large Economy Sponge
Lincoln Large Economy Sponge - A large high quality sponge, ideal for many uses around the house, yard and stable. Size: 6" x 4.5" x 1.5"
---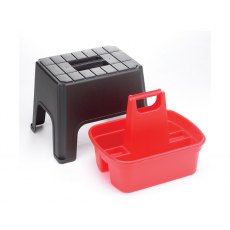 Lincoln Step & Groom
Two separate units fit together for ease of storage and carrying. Deep tray for storage of tools and accessories. Two compartments for small items. Four non-slip rubber base pads. Tough polypropylene construction. Two compartment tack tray. Separate step lid. Ideal for plaiting manes. Dimensions 40 x 35 x 30cm.
Lincoln Tack Tray
An all purpose tack tray with a carrying handle. Excellent value for money!
---
Roma Grooming Carry Bag
Strong nylon bag comes with adjustable shoulder strap. Lots of pockets for bottles and brushes
Roma Sponge
A vacuum-packed expanding sponge that increases in size when water is added.